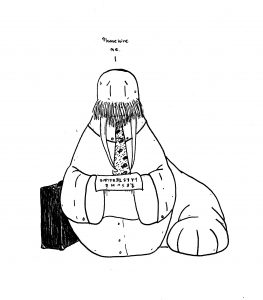 Well now, look at our walrus friend here!  All dressed up nice and neat, with a briefcase in one flipper and a resumé in the other,  with a look that says, "Pretty please hire me – I am not too proud to beg."
Basically reflecting how I'm feeling at this very moment.
I have an interview coming up this Tuesday, and if all goes well, I could get that promotion.  Which is both exciting and nerve wracking.  On the one hand, I am so ready to be taking this next step on the library ladder.  Love being a page, but it's about time.  Plus I could use having more hours at work.
On the other hand, I'm terrified at the notion of leaving my current library.  And I do enjoy this current paging position.  There is this nagging little voice at the back of my mind saying, "Don't do this.  Be a page forever.  It's a good gig.  Why rock the boat?"
And the interview itself…gracious.  I need to present the best me possible to this panel and NOT screw this up.  And of course, me being me, I've been thinking the worst.  Because anxiety is fun times.
However, I do have to remember that unlike the last time I interviewed, I actually have a job that I can keep on working at.  So that helps.  And I have been getting a metric ton of advice from pretty much everyone I work with.  Plus, I did just take an interviewing class.  So I've got a couple of things working for me there.  Just need to remember to ask questions and tell them everything that I've done in the past few years at the library.
Hoping for the best.  Now it's time to find some nice pants to wear.
Please follow and like us: