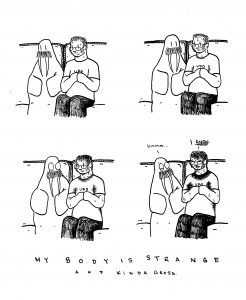 Sweat is gross.
And lucky for me, whenever I start sweating, I can't stop.  It's not like a little trickle – it is a full fledged tsunami of perspiration.  The volume of sweat I can put out is truly astounding and utterly terrifying.  And sometimes, it'll happen for no reason at all.  Like last Friday, when I was at the mall and suddenly sweat is just pouring down my face.  Or a couple nights ago, when I woke up literally soaked and had to change my clothes.
Or I'll be exerting just the teeniest bit of physical effort and boom!  Instant sweat storm.  Makes working at the library even more enjoyable, having to dart into the back to mop myself off.  Throw in some anxiety – which I've talked about before eons ago as something that'll get the sweat glands going – and I'm just a sopping mess.
Thanks a heap, body!
Please follow and like us: