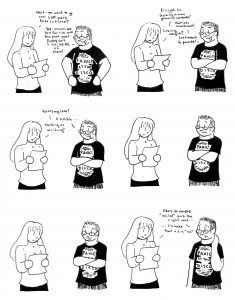 Didn't really come up with any resolutions for the new year.  Or rather any new resolutions.  It's pretty much the latter two mentioned in the comic – attempt to worry less and try to write more.  Both of which I failed at last year.
Of course, now that I think about it, I don't think I helped myself at all in those regards.  I basically ignored writing – aside from this blog – in general, while ramping up my anxiety through constant Googling and clicking on stuff that I really shouldn't have.  So this year, it is a matter of displaying some actual willpower and restraining myself from random Google searches at 10 PM whilst pushing myself to write.  So far, the Googling seems to be going well.  The writing, well – it's a work in progress.
As for the other two resolutions that I actually managed in some capacity to achieve, now is the time to continue forth with those, not chucking them aside.  I need to make sure that I keep going to the gym and watching what I eat, whilst moving away from the snarky t-shirts in order to upgrade my wardrobe.  Time for them to evolve into habits, not just resolutions.  And hopefully at some point, writing will become a daily activity and the worrying will diminish.  In the meantime, it's time to buckle down and make sure they happen.
Please follow and like us: