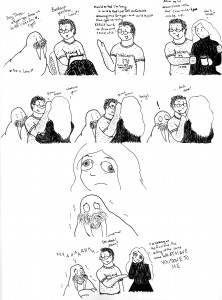 This came from a memory that randomly popped into my head from 8th Grade.  I was drawing a cartoon character during Civics class, and for some reason, I showed it to this girl named Erin, asking her, "What do you think?"
She answered with, "I don't know, what's up with her eyes?" (Or something along those lines.)
Looking back on it, I have tried to give my cartoon characters realistic looking eyeballs, to some extent.  And they have always turned out to be TERRIFYING looking.  Almost anime-esque, and not in a good way, especially since I hated it when people compared my cartoons to actual anime, which I saw as an insult, for some reason.  It also seemed kind of forced and unnatural, like I was trying too hard and change my art immediately instead of letting it evolve naturally.  Those eyes always were way out of place with everything else I was drawing and, as seen here, really weird and wonky (maybe not this wonky, but close).  So, I've pretty much stuck with what I know – the "line eye."  I love cartooning, and it just works within this particular medium.
Maybe one day I'll get to the point where my eyes will change.  But when it does, it will happen on its own without me having to force it too much.  Personally, I'm impressed with how far my comics have come to begin with, since they started out with dots for eyes AND noses, and crosses for arms WAAAAAY back in the day (like, 18 years ago).  And now I just made myself feel very, very old.  Hoo boy.
So yeah, for now, I'll stick with the line eye.
Please follow and like us: