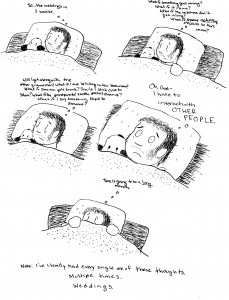 Who needs to worry when I can do the worrying for you?
And yes, I do worry about human interaction on a daily basis.  In this case…I mean, I'm fairly certain a good portion of the wedding guests are my brother's friends/future sister-in-law's relatives whom I've never met (complete strangers – my other worst fear).  And I want to make a good impression beyond "Buster's younger weirdo brother."  It's like high school all over again: I want the older kids to think I'm at least kinda cool/have it together.
Stupid?  Probably.  And yet it keeps me up at night anyways.
Please follow and like us: