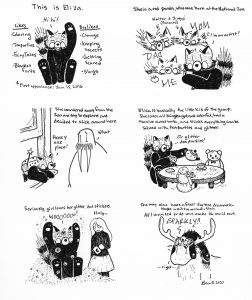 Here she is – the ball of energy that is Eliza the red panda!
…honestly, there really isn't much of a deep backstory here.  I drew a red panda once, liked how she turned out, and just kept throwing her into comics.  That's pretty much it.  Kind of funny how that happens.  Now, what happened to the kiwi bird I drew her with, I dunno.  But Eliza's still here.
I will say that she is one of the harder characters to draw.  She has a lot of different details to get right, especially with the shading of her body and tail.  It took me a while to get her design down, but I think I've got it squared away at this point.
Fun fact: I got her name from an article about baby animals born in zoos.  There was a trio of red pandas born, and one of them was named Lizzie.  So when I started drawing a red panda of my own, I decided on Eliza.
Thinking about it now, Eliza is definitely not an Elizabeth.  She's an Eliza, straight up.
An Eliza who uses way too much glitter.  That's gonna be found everywhere…
Next up: Jeff the Reindeer!
Please follow and like us: