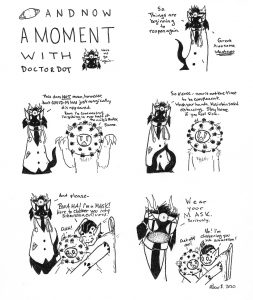 I really don't understand the people who refuse to wear masks and act like it's the end of the world.
If you have a condition that prevents that, fine, more power to you.  Which, when you think about it, probably makes it even more necessary for the rest of us to wear ours: to help protect those who can't.
I am aware that face masks won't exactly "clobber" the virus into submission.  But it certainly doesn't hurt to wear one to prevent you from spreading anything to someone else.  And as my mom says, it's also a sign of respect; that you care about others enough to make sure they don't get your germs.
Still, the masks are just a part of all this.  Wash your hands, keep your distance, stay home if you do feel sick – all of this.  It all works together in making sure that this thing will some day be a thing of the past.
Please follow and like us: