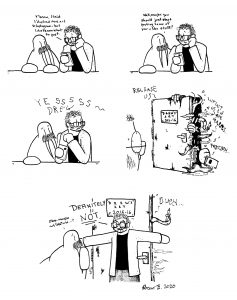 I've been wanting to post more art on Instagram for a while now, just to get more eyes looking at it, and I've been trying to figure out what I should be posting.  I mean, I've got this backlog of comics here on this website.
The only problem is, I look at some of it, and…it's rough.  Or at least I think it's rough.  Especially the earlier stuff.  So that's probably just going to stay here on I Draw Walruses.
Maybe it's just an artist thing to think all your early stuff is bad, I dunno.  I mean, I've definitely improved on some level, thank goodness.  Maybe I'll redraw a few.  Who knows?
Please follow and like us: